Top-Rated Contractor For Stucco Repair Services Near Me
It's no doubt that stucco is a popular choice for both commercial and residential buildings because it is durable and low maintenance. However, over time, stucco can start to crack and crumble. When this happens, it is imperative to have a professional stucco contractor repair the damage. If this is the case, Anicette Stucco has got you covered. 
We have been in business for over ten years, making us one of the most experienced stucco contractors in the market. That's why we have the experience and expertise to repair any stucco damage. 
So, if you are looking for a top-rated stucco contractor in your area in Orlando, FL, give us a call. We would be happy to provide you with a precise estimate.
How Serious Is Stucco Damage?
Most people think that stucco damage is not a big deal and that it can be easily repaired. However, the truth is that stucco damage can be severe and even lead to structural issues if not properly repaired.
Stucco is a type of plaster made from cement, sand, and water. It is commonly used as an exterior finish for homes and buildings. While stucco is very durable, it is not indestructible. It can crack, chip, and flake over time due to weathering, settlement, or improper installation.
If you have stucco damage, getting it repaired as soon as possible is essential. Smaller cracks and chips can be easily repaired with a stucco patch kit, but larger cracks may require the services of a professional stucco contractor.
If you wait too long to repair stucco damage, it can lead to more significant problems. Cracks can become larger and more numerous, and they can start to affect the structural integrity of your home or building. In extreme cases, stucco damage can even cause walls to collapse.
Don't wait to fix it if you think you have stucco damage. Call us today to get an estimate for repair. 
What Do You Need For Repairing Stucco?
If you need to repair stucco, there are a few things you'll need to do the job right. First, you'll need to gather some tools and materials. Second, you'll need to assess the damage and figure out what needs to be done to fix it. And third, you'll need to follow the proper steps to repair the stucco.
Tools and materials a professional expert needs or you'll need for stucco repair:
Acrylic stucco patching compound

If you ever attempt repairing stucco, following the proper steps to repair stucco is essential for a successful repair. Nonetheless, you should always hire a professional stucco repair contractor for any stucco project or job, whether it's repair or installation.
What Is Stucco Repair?
Stucco is a type of plaster that is commonly used on walls and ceilings. It is made from Portland cement, sand, and water and can be applied to almost any surface. Over time, however, stucco can crack or chip and must be repaired.
There are a few different ways to repair stucco, depending on the extent of the damage. For small cracks or chips, you can simply use a patching compound. You may need to remove and replace the affected area for larger areas of damage.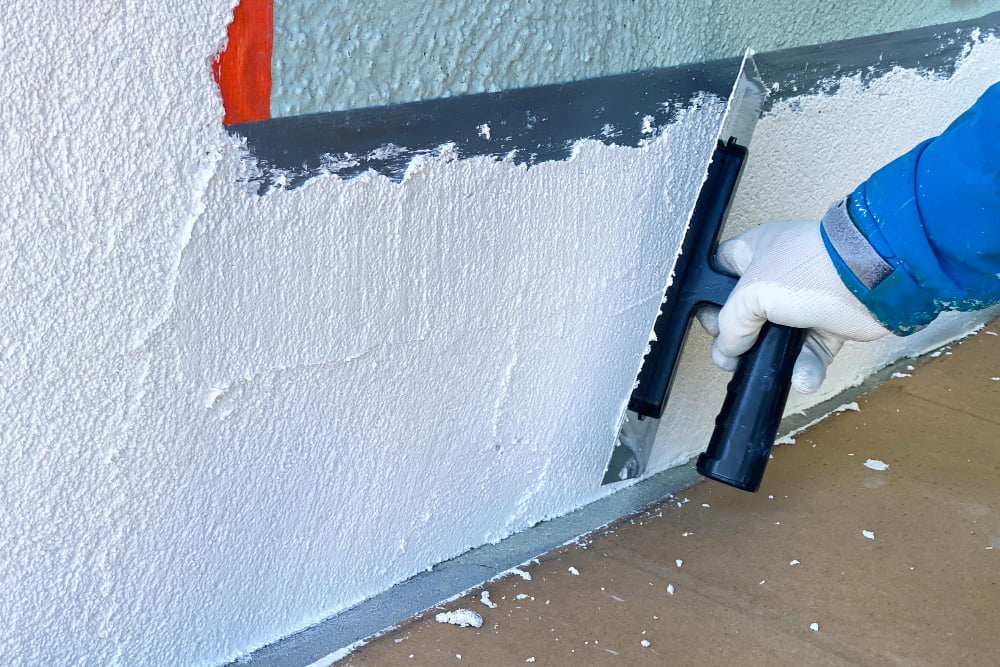 Steps involved in assessing the damage and figuring out what needs to be done to fix it:
Inspect the area for cracks, holes, or other damage

Repair any damage to the wire mesh

Patch any holes or cracks in the stucco
Apply a new coat of stucco, if necessary
If you are unsure how to repair stucco properly, it is best to hire stucco repair experts. We can assess the damage and make the necessary repairs. We can handle any stucco work, including stucco crack repair, installation, plastering, and more.
When Is Stucco Repair Necessary?
Stucco is a popular finish for residential and commercial properties because it is attractive and low maintenance. However, like any exterior finish, stucco can become damaged over time. Whether from weather wear, impact damage, or poor installation, cracks and holes in stucco are inevitable. So, when is stucco repair necessary?
In most cases, stucco repair is necessary when the damage is more than cosmetic. Cracks and holes less than a quarter inch wide can usually be filled with caulk or patching compounds. However, any cracks or holes that are wider than a quarter inch will need to be repaired with mortar. In addition, stucco that is loose or flaking should be repaired or replaced.
If you are unsure whether stucco repair is necessary, it is best to consult with a professional for professional stucco repair services. We will be happy to assess the damage and determine the best course of action. 
While stucco is not tricky to work with, it does require special tools and skills. If stucco repair is not done correctly, it can lead to further damage and an even more extensive repair bill. So, save yourself the time, hassle, and expense and hire Anicette Stucco- the best stucco contractor near you. 
How To Repair Stucco Properly?
The proper steps involved in repairing stucco are:
Prepare the area before beginning any repairs

Apply the mortar to the affected area
Allow the repair to dry completely
Paint or finish the repaired area, if desired

By following these steps, you can successfully repair stucco. With the right tools and materials, you can make your stucco repairs last by assessing the damage and figuring out what needs to be done. And if you need a professional's help, Anicette Stucco- the best stucco repair contractor near you, is here to help.

Need Stucco, Plaster, Painting services ?

Call us today for an estimate!
(407) 456-2006
Get A Quote

Are You Looking For A Stucco Repair Contractor That Handles Residential & Commercial Projects?
Stucco is a type of plaster that is used to cover the exterior of buildings. It is made from a mixture of cement, sand, and water and can be applied to walls, ceilings, and floors. Stucco is a durable material resistant to fire, insects, and weathering. 
However, it can be damaged by impact and crack and crumble over time. When this happens, it is necessary to repair the stucco to maintain the integrity of the building. 
If you need stucco repair, Anicette Stucco is the company to call. We are a full-service stucco company that handles both residential and commercial projects. We have years of experience repairing stucco and use only the highest quality materials. 
We understand the importance of customer satisfaction. That's why our commitment to customer satisfaction is second to none. We go above and beyond to ensure our customers are pleased with the work.
The Best Contractor For Stucco Repair Near Me

Use The Expertise You Need To Handle Your Stucco Painting & Repair Needs.
Stucco is a popular exterior finish for homes and businesses but can be susceptible to cracking and other damage. If you require stucco repair, you'll want to find an experienced stucco repair company that can provide a high-quality solution. 
Anicette Stucco is a leading stucco repair company with over ten years of experience. We offer a variety of stucco services, including repairs, installations, and more. Whether you need a small repair or a complete re-stucco job, we're here to help. We can repair your stucco in no time. 
So, we welcome you to use our expertise in stucco repair and painting and have the best experience. You can count on us with stucco projects because we focus on attention to detail and are always on time to perform our jobs. We will ensure your building looks brand new by doing our jobs efficiently and effectively. 
Don't wait any longer; call Anicette Stucco- the best stucco contractor, to schedule an appointment.